Submissions come in all shapes and sizes – this section outlines what could be included in a designer's submission and possible methods of assessment.
---
Best practice

Key points:
The design studio's methodology. Make sure you understand the processes they will follow to get the results you need.
What the estimate includes – that's the only way you will understand what you are buying.
---
Capability
A typical submission could include:
A capability statement
The capability statement may range from a brief resume through to a previously printed brochure. There is no correct format, but the content should instill confidence that the designer is able to deliver the expected results.
A response to your key message

It is important the submission acknowledges, and responds to, any key criteria that you have included.
An estimate
Each designer will estimate in a slightly different way, but expect more than a total figure. There should be some breakdown of costs.
It is not your responsibility to ensure that a designer has quoted accurately, however it is your responsibility to compare like with like and to understand where and why there are differences in costs.
Assessing the submissions
The aim is to identify the design studio that shows a positive understanding of your brief and with whom you would feel most comfortable working. A good working relationship will usually bridge any difficulties that may arise during a project.
The cost is not the only method of differentiating between suppliers. It may be that the supplier with the lesser cost does not have the experience to understand all of the intricacies of the project.
Remember that designers only have their time to sell, so don't be dismayed if the estimate is very detailed and looks as though petty items are covered – the more detailed, the fewer surprises you can expect.
Estimates
Each designer will estimate in a slightly different way, regardless there should be a detailed scope of works with a total cost excluding 10% GST. It is not your responsibility to ensure that a designer has quoted accurately, however you should compare like with like and understand where and why there are differences in costs. Below is a breakdown of terms often used in an estimate. Not all designers will include all of these categories.
Design / design development / concept
The development of a unique design appropriate to the project. It may include tasks like research, developing ideas and preparing the presentation. The estimate should detail how much design will be presented for approval (eg cover, text design etc.) and when requests for design changes start to be charged as author's corrections.
Artwork / formatting / layout
This refers to formatting text into print-ready artwork. The estimate could be based on time, or it could be based on the number of pages in the report – either way it should show a total cost excluding 10% GST.
Copyright
A designer retains full ownership of design concepts and materials they produce. Once a final concept is delivered to a client and full payment is received, complete ownership rights to the concept transfer to the client. Unused concepts remain the property of the designer.
Designs may not be used for other promotional items, website or printed materials without permission. The designer reserves the rights to certain elements used to create your images including fonts, patterns, stock images, textures, colour palettes and other non-exclusive items.
Native Files
All artwork is created using Adobe Creative Cloud software unless stated otherwise. The transfer of these native files will incur an additional 20% fee. These native files are the professional working files of designers and not templates. If template packages are requested as a part of the 'Scope of works', the native file transfer fees do not apply. All fonts, stock photography, stock illustrations or stock icons used within native files or template packages will be charged at market value.
Copywriting / editing / proofreading (see also Writing)

Copywriting delivers text written specifically to fit your brief. The estimate should show if the writer is taking responsibility for researching the information, or expecting to re-write from supplied notes.
Editing involves taking existing words and changing them to suit another purpose. Editing may improve the communication, reduce the word count or adjust the language to fit a style guide.
Proofreading is the checking of existing copy for inconsistencies and inaccuracies. It is usually done prior to printing.
Design management / project management
Design management involves all non-design administrative and management activities such as paperwork, briefings, meetings, managing suppliers, presentations.
Reimbursables
The estimate may include fees for additional charges such as couriers. They may be itemised up front as a range, or as a figure to be 'allowed' for.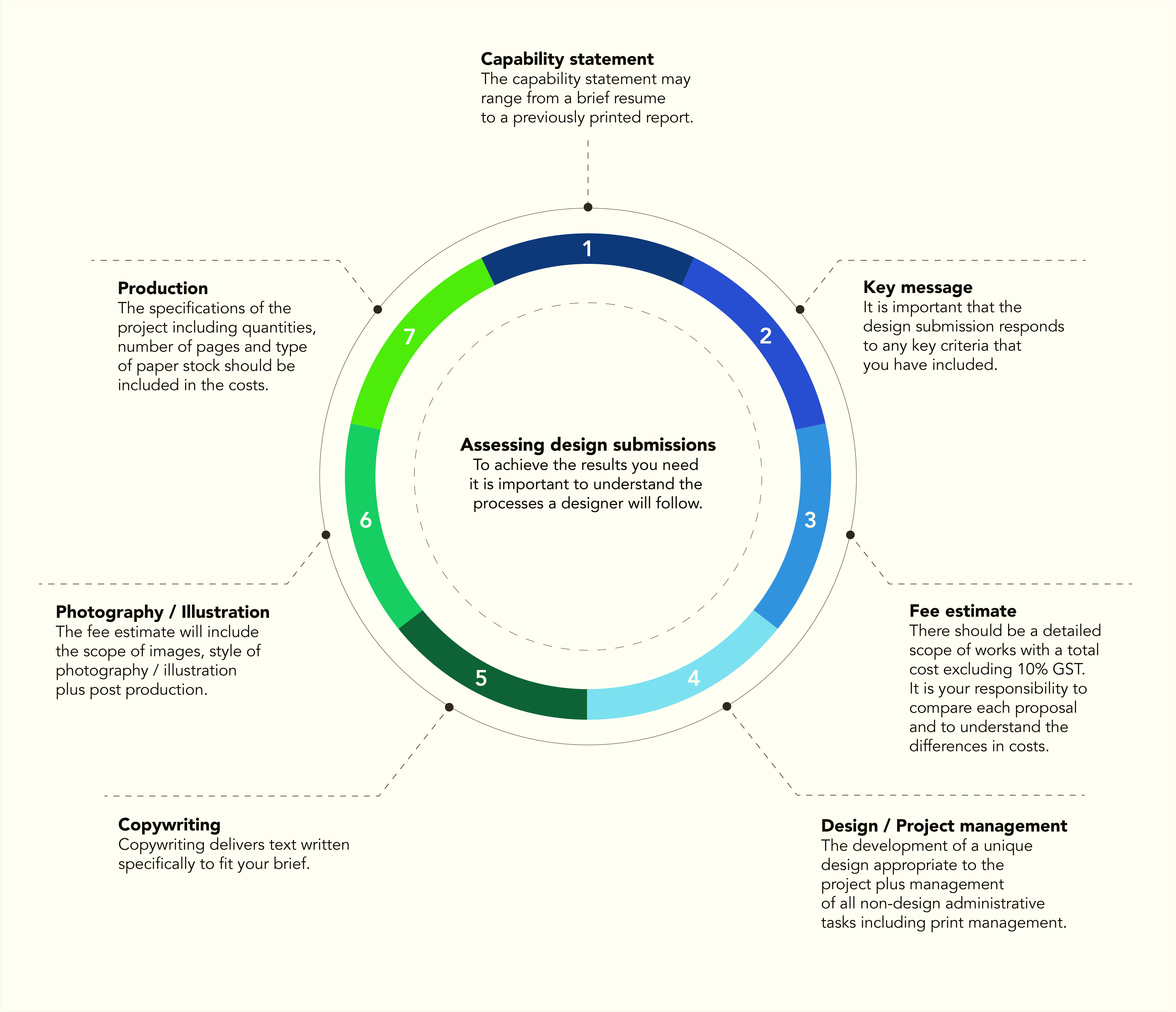 Production estimates
Not all designers manage print, but if they do, the costs may be identified within a production estimate.
Pre-press and printing
The specifications of the project should be stated alongside the cost so there are no misunderstandings about quantities, number of pages or type of paper stock. It is not uncommon for each of these figures to change once the artwork is done, so documenting a starting point is always beneficial.
Print management
A print management fee covers the designer for carrying the cost of the printing (deposit and withdrawal bank fees and taxes), and the administration of payment to the printer, sometimes before receiving payment from the client.
Some designers will specify a percentage mark-up separately from the print cost while others may include it as part of print.